Book Reviews
BOOK REVIEWS
We Belong to the Land
by Fr. Elias Chacour
I met Abuna Elias Chacour in June of 1999 when my husband and I chaperoned a group of 40 high school students to Israel to work in Ibilin, Israel at the Community College with Father Chacour.  One of our group's evening events was to meet on the roof of his home to talk with him about the events of the day and the strife that the students in Ibilin endured.  He is a gentle man with an immense amount of patience and perseverance.  He worked through the Israeli bureaucratic red tape and delays to obtain building permits for hi multi cultural school in Ibilin.  He is now a Bishop in the Melkite Church.
Nominated several times for the Nobel Peace Prize, world-renowned Palestinian priest Elias Chacour, narrates the gripping story of his life spent working to achieve peace and reconciliation among Israeli Jews, Christians and Muslims.  From the destruction of his boyhood village and his work as a priest in Galilee to his efforts to build schools, libraries and summer camps for children of all religions, this peacemaker's moving story brings hope to one of the most complex struggles of our time.
The Jefferson Bible
In 2012 the Jefferson Bible was being meticulously worked on and re-bound in the Smithsonian Museum.  In that year, the museum decided to make a limited number of facsimile copies available to the general public.  An article in the January 2012 issue of Smithsonian Magazine explains the process of restoration and preservation, how the original "cut and paste bible" came about, and Jefferson's thinking of Jesus. Thomas Jefferson entitled his book "The Life and Morals of Jesus of Nazareth."
In the election of 1800, his opponents labeled Jefferson a "howling atheist", when in fact Jefferson was devoted to the teachings of Jesus Christ.  However, he didn't always agree with how they were interpreted by biblical sources, including the writers of the four Gospels, whom he considered to be "untrustworthy correspondents."
Jefferson, in the years at the White House and later (1804-1820), took the writings of the four Gospels in Greek, Latin, French and the English King James, cut them out of their Bibles, then glued them into four columns.  He omitted miraculous events, including Jesus' resurrection, and anything else that Jefferson considered "contrary to reason".  Jefferson wrote, "We must reduce our volume to the simple evangelists, select even from them, the very words only of Jsus. There will be remaining the most sublime and benevolent code of morals which has ever been offered to man."
BONHOEFFER: PASTOR, MARTYR, PROPHET, SPY
by Eric Metaxas
Were you unable to attend one of the classes on Dietrich Bonhoeffer this fall?  If so, you can now borrow a library copy of the abridged biography on his life.  Bonhoeffer is a fascinating figure from a very troubling time in history.  He grew up in Germany and was a young man during the time of Hitler and WWII.  The story is a deeply moving one about a man who courageously sought to do God's will.  Bonhoeffer had a passion for the truth and a commitment to justice.  He was a theologian and had to grapple with what choices to make as a Christian in the face of evil.  I highly recommend this book and you will find it a relatively quick read, but very insightful.  It is shelved in our Biography section.
Related items:
Bonhoeffer's writings:
The Cost of Discipleship
Life Together
The Martyred Christian
DVD:  Bonhoeffer: Agent of Grace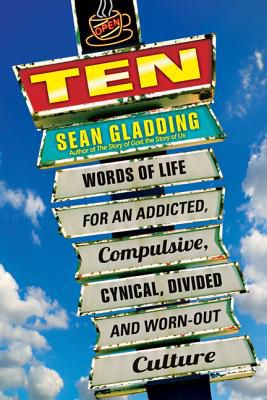 TEN
by Sean Gladding
The book TEN is new to our church library and offers a fresh approach to the ten commandments.  Gladding brings this study to us through an engaging conversation set in a coffee shop with a small, diverse group of people.  Starting with the 10th commandment and moving to the first, the study goes through each commandment covering one commandment per chapter.  Each chapter is in a conversational format, but also draws on commentaries and biblical scholarship which brings to us "the goodness of God and the relevance of Scripture" (Lindsay Olesbery).  Gladding shows the commandments bearing on everyday life in our culture today for real people.  This book is easily readable and, most importantly, relevant.
Find the book shelved in our Inspirational section.
IT'S NOT ABOUT ME
by Max Lucado
Although the title implies a call to live less self-centered lives, the focus of this book is, rather, a call to live more God-centered lives. It is, foremost, a book about the vastness of God's love, supported in scripture and Pastor Lucado's personal anecdotes.  For the first half of his book, Pastor Lucado presents a complete picture of God.  In the second half, he shows us how to respond to God.  He teaches that by realigning to a God-centered life, we come to a greater meaning and purpose for our lives while simultaneously bringing glory to God.
LIFE TOGETHER
By Dietrich Bonhoeffer
In his intensely unique style, Dietrich Bonhoeffer describes the beauty of Christian life, lived in community with other believers, as it can best be imagined.  In his short book, Life Together, Pastor Bonhoeffer begins by defining Christian community as distinct from other physical or intellectual relationships, which sets the groundwork for relating to each other in a community based in Christ.  He then explains how such a life can be achieved, daily, through common worship and ministry to one another, by confessing our sins to each other, and be sharing Holy Communion.  This book can be used in a congregational setting or as a resource for daily, family life.
THE RAGAMUFFIN GOSPEL
By Brennan Manning
We've heard the phrase "the grace of God," but what does it actually mean?  For Brennan Manning, it means that God accepts us, the misfit, inadequate ragamuffins that we are, with wholehearted love.  Additionally, though, we are called to spread that love to the rest of the ragamuffins.  So often, today, churches in America accept the idea of God's grace in theory but do not put it into practice.  Manning spells out a clear theology that compels us to shake off the fear of the unknown, step out of our comfortable and insulated worlds, tilt our halos a bit, and get our spiritual hands dirty with the real work of Jesus' gospel.  We can never earn God's grace; it is a gift that we have to choose to accept.  The acceptance of God's grace compels us to be nice to the people and world around us.  He's had enough of the counterfeit grace that so many modern Christians embrace, one that acts pious on Sunday and acts callous on Monday.  Manning wants us to be simple, direct, and honest in our daily lives, reaching out to those to whom Jesus would have sympathy and understanding.  Bloated testimonies of the greatness of God make us think that life as a Christian should be an easy picnic, but Manning asserts that a Christian's victory lap is really a limp.  We are all flawed and need God's help every step of our lives.  However, with God's grace upon us, we are motivated to repent and follow the hard path of compassion and mercy that Jesus showed us how to walk.  "The Ragamuffin Gospel" is in our church library; I highly recommend it, as we can all use a good reminder that God is Love and that He calls us to share His love with the world.
CHRIST-FOLLOWING: Ten Signposts to Spirituality
by Trevor Hudson
Remember back to Rev. Bester's first sermon of the year regarding our lives being centered around God?  The Book "Christ-Following" is an excellent resource to help bring about this lifestyle.  In this book, Hudson identifies ten signposts for developing a Christ centered life of discipleship.  Each chapter discusses one of the signposts and shares practices to follow in your growth toward living with a passion for Christ.  As Gordon MacDonald says, "Hudson calls people to courage, to vision, to acts of Christian servanthood" which brings about a life that radiates outward as well as inward.  We must work hard at knowing God, pursuing spiritual disciplines to deepen our spirituality.  Hudson ends his book saying, "You and I are called to become like Christ.  This goal for the Christ-following life coincides with the desperate needs and challenges of our contemporary world."  These ten signposts can guide us on our journey to live "Christ like."
THE PURSUIT OF GOD
By A.Z. Tozer
The author has written more than 40 books but two are regarded as Christian Classics:  The Pursuit of God and The Knowledge of the Holy.  The Pursuit of God was first published in 1948 and since been republished.  His books impress on the reader the possibility and necessity for a deeper relationship with God.
The scholarly written book requires your undivided attention, not a cursory perusing of the words.  We must think out of our complacent box of knowing and learning to reach for another understanding and experience of God in our lives.  I was able to grasp his references and continue forward with his "Wake- Up" call to aggressively pursue God as our friend, mentor, confidant, and spiritual leader for His glorification.  He wants us back into His eternal relationship with Him and to have conscious communion with Him.
Mr. Tozer explains that our Christian teachings have not brought forward the zest and zeal to know God that the earlier writers, saints and mystics had shown.  He continues, throughout this little book, to explain the steps that he has pursued to be in communion with God.  The face of God hidden behind a veil of our worldly life, seems not to intrigue us to pursue knowing Him deeper.  We seem to be satisfied by His face being hidden and our worldly life being our focal point.  Experiencing God by seeing Him, listening for Him as well as restoring our Creator-Creature relationship through our spiritual pursuit of Him is a good start to experiencing the difference between having a "nominal Christian life and a life radiant with the light of His face."
.
.